Wednesday, 4. October 2017
Topic: BOARD NEWS - on October 4, 2017 2:08:00 AM CEST

Sputnik 1: Vor 60 Jahren startete der erste Satellit ins All
Mit der Reise des sowjetischen Satelliten Sputnik 1 begann das Zeitalter der Raumfahrt. Dadurch erreichte auch der Kalte Krieg eine neue Dimension.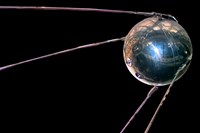 derstandard
... Comment
endagbeanee1, 1/17/20 3:28 AM
Enjoy hours of bottle flipping fun with your friends, family, or any enthusiasts at the comfort of your computer. It comes with a straightforward design that allows players to jump into bottle flip gamewith just a click of a button.
... Link