Topic: CARS - on July 24, 2012 8:27:00 AM CEST

Woman arrested after driving car for a quarter of a mile down railway tracks

A woman who was allegedly intoxicated abandoned her on the railroad tracks near Corydon Pike early Sunday, causing train service to be disrupted for several hours.

Floyd County police arrested April N. Hill, 22, of Greenville, Ind., and charged her with disturbing a train bed, a class D felony, and operating a vehicle while intoxicated.
... Link (0 comments) ... Comment
Topic: CARS - on May 21, 2012 11:12:00 AM CEST

Siemens-Konzept für Elektro-Lkw: Stromschlag von oben

Wenn über die Senkung des CO2-Ausstoßes diskutiert wird, stehen meist die Pkw im Vordergrund. Großes Sparpotenzial gibt es aber auch bei Lkw. Siemens hat jetzt ein System zu Elektrifizierung der Laster gezeigt. Dabei setzt der Automobil-Zulieferer auf eine mehr als hundert Jahre alte Technik.
... Link (0 comments) ... Comment
Topic: CARS - on May 12, 2012 9:27:00 AM CEST

Carrol Shelby, R.I.P

LEGENDARY ENTREPRENEUR CARROLL SHELBY PASSES AWAY
LOS ANGELES - May 11, 2012 - Carroll Shelby International, Inc., (OTC: CSBI.PK) announced today that
Carroll Hall Shelby, a man whose vision for performance transformed the automobile industry, has died
at age 89. Mr. Shelby passed away yesterday at Baylor Hospital in Dallas. The cause of death was not
disclosed.
Born on Jan. 11, 1923, Carroll Shelby was one of America's greatest success stories. Championship-win-ning racecar driver, "flying sergeant" wartime pilot, philanthropist, entrepreneur, car manufacturer and
racing team owner, he embodied the ingenuity, tenacity and grit to overcome any obstacle. He is perhaps
the only person to have worked at a visible level with all three major American automobile manufactur-ers.
Carroll Shelby founded Carroll Shelby International, a publicly held corporation involved in many indus-tries. His licensing arm has agreements with industry giants, such as Mattel, Sony, Ford Motor Company
and Electronic Arts. His car company, Shelby American, has a thriving parts business as well as a line
of muscle cars including the Shelby GT500 Super Snake, Shelby GT350 and Shelby GTS. The Las Vegas-based company also manufactures a limited number of the 1960s Shelby 289 "street," 289 FIA, 427 S/C
and Daytona Coupe Cobras.
... Link (0 comments) ... Comment
Topic: CARS - on April 8, 2012 3:02:00 PM CEST

Abu Dhabi sells stake in Tesla electric car firm

State owned power supplier Abu Dhabi National Energy (TAQA) has sold its 7% stake in US electric carmaker Tesla.

TAQA, three-quarter owned by the government, said it made a profit of $113m (£71m) on the sale.
... Link (0 comments) ... Comment
Topic: CARS - on February 23, 2012 12:53:00 PM CET

How To Brick An Electric Car - Tesla Motors' Devastating Design Problem

Tesla Motors' lineup of all-electric vehicles — its existing Roadster, almost certainly its impending Model S, and possibly its future Model X — apparently suffer from a severe limitation that can largely destroy the value of the vehicle. If the battery is ever totally discharged, the owner is left with what Tesla describes as a "brick": a completely immobile vehicle that cannot be started or even pushed down the street. The only known remedy is for the owner to pay Tesla approximately $40,000 to replace the entire battery. Unlike practically every other modern car problem, neither Tesla's warranty nor typical car insurance policies provide any protection from this major financial loss. Here's how it happens.
... Link (0 comments) ... Comment
Topic: CARS - on February 12, 2012 11:19:00 AM CET

Die Limousine mit dem Schwedenofen

«Raus aus der warmen Stube und rein in die warme Stube auf Rädern.» So oder ähnlich könnte das Motto von Pascal Prokop heissen. Der junge Mann hat einen Ofen in seinen Volvo 240 eingebaut. «Wenn ich müde bin oder zu viel getrunken habe, will ich im Auto schlafen», erklärt der Rangierlokführer aus Mettmenstetten in der Rundschau, weshalb er auf die Idee mit dem Ofen in seinem Auto mit Jahrgang 1990 kam. Nun müsse er gar die Scheibe etwas herunterkurbeln, damit ihm nicht zu warm sei. Anfangs fiel er mit seiner Konstruktion noch mehr auf: «Der Kamin ragte zunächst zwei Meter in die Höhe. Das sah gut aus, aber ich kam nie weit.»
... Link (0 comments) ... Comment
Topic: CARS - on February 12, 2012 11:11:00 AM CET

Swiss man installs wood-burning stove in his Volvo

Here's an equation you probably didn't learn in school: European cold snap + Swiss ingenuity = wood-burning stove in a Volvo.

Europe is being hit by severe cold weather that started two weeks ago, and the Continent's deep freeze expected to continue until mid-February.
... Link (0 comments) ... Comment
Topic: CARS - on February 12, 2012 11:08:00 AM CET

Derweil in Tschechien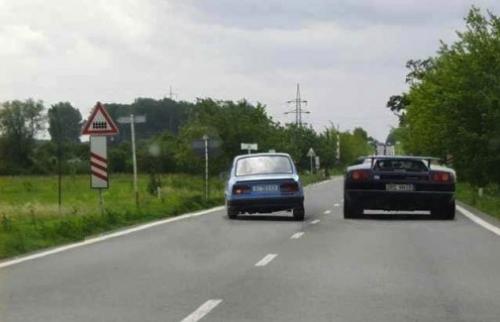 ... Link (0 comments) ... Comment
Topic: CARS - on November 8, 2011 7:17:00 PM CET

Fiat - Arrivederci, Italia?

DUTY, history, and responsibility are what keep Fiat, Italy's biggest private-sector employer, based at home. Running counter to such fine notions, said the carmaker's boss, Sergio Marchionne, earlier this year, is Fiat's need to make decisions "rationally". It has lost money in Italy for years. It expects things to get worse as sales slump at home. Small wonder that the country regularly goes into hysteria over whether Fiat will stay.

Its takeover of Chrysler, an American carmaker, is one reason to worry. Fiat (whose chairman, John Elkann, is a director of The Economist's parent company) has not decided whether the combined group's headquarters will be in Turin or Detroit. That may involve little more than a plaque on the wall, as the company argues. But Fiat's manufacturing presence in Italy is under threat too. Despite earning two-thirds of its revenues abroad, it still has almost half its employees and 40% of its plants in Italy. Mr Marchionne has repeatedly threatened to shutter Italian capacity if he cannot make it productive.
... Link (0 comments) ... Comment